GOVERNOR BRAD LITTLE
FFA STUDENT PREPARED SPEECH
FARM FAMILY OF THE YEAR - McIntyre Family Farms
Labor Issues in Agriculture
The Nampa Chamber of Commerce invites you to the Seventh Annual AG Forum on Tuesday, February 4, 2020, from 11:00 am-1:15 pm at the Ford Idaho Center. The AG Forum connects the agricultural industry and local businesses while raising awareness that agriculture and food processing are still the backbone of Southern Idaho's Economy.
The AG Forum will honor Governor Brad Little for his commitment to Idaho agriculture, feature the Ag Family of the Year, FFA speech contest winner, and thoughtful information. Can we solve the ag labor shortage? How do guest worker programs like the H2A program for temporary agriculture workers help local producers? Join us to hear more about this complex issue and its effect on the local business community.
Panelists
JOSE DE LEON, Idaho Department of Labor
MICHELLE GOODING, Idaho Hop Growers Association
RICK NAEREBOUT, Idaho Dairymen's Association
Registration is Now Closed
REGISTRATION DEADLINE WAS 5:00 PM ON JAN. 30, 2020
For general questions, call our office at (208) 466-4641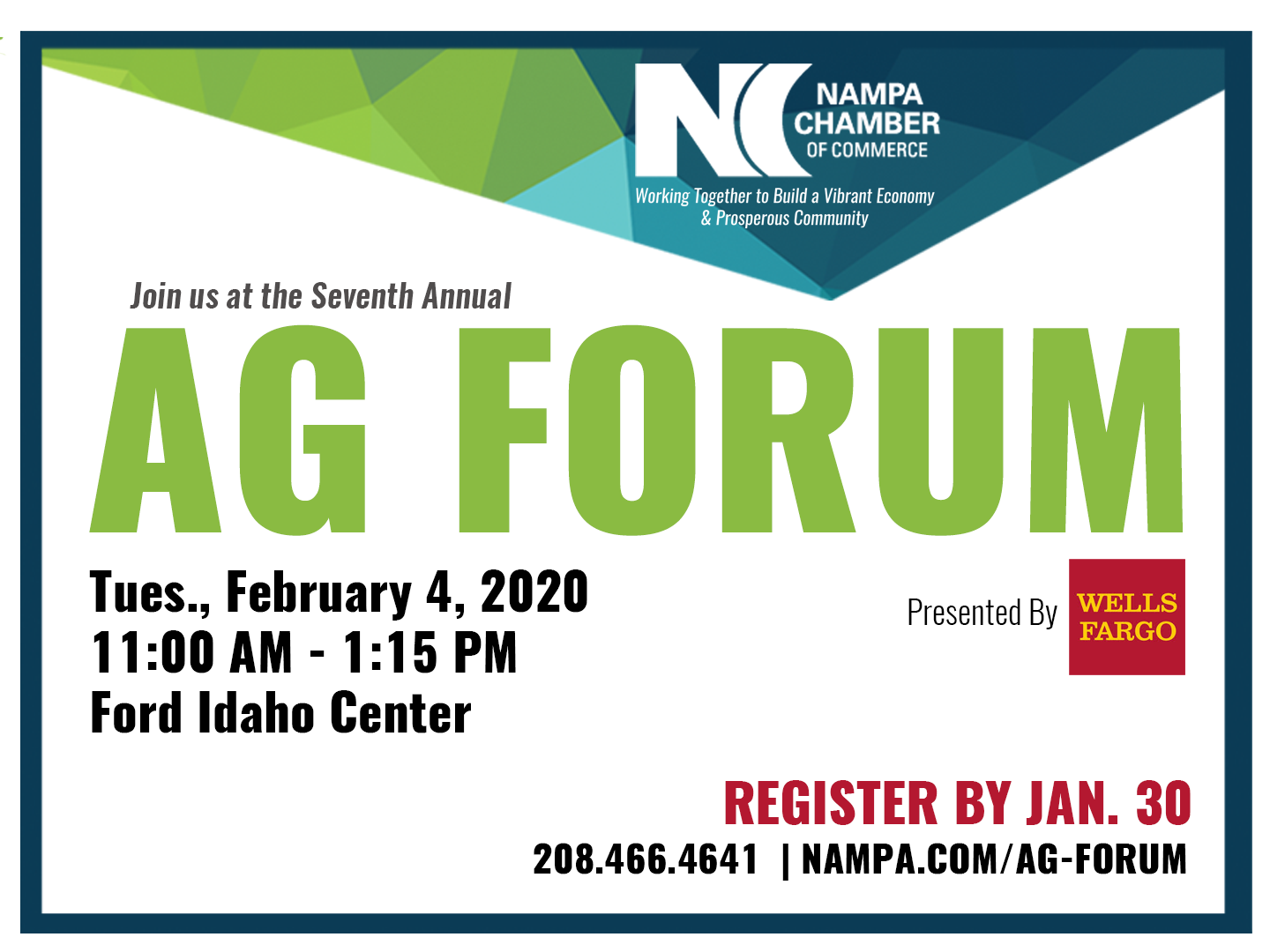 Sponsor & Exhibitor Invitation
We invite you to join us in supporting the AG Forum by partnering with us as a sponsor and/or exhibitor.
Contact the Nampa Chamber of Commer info@nampa.com / 208.466.4641
Are you interested in learning about the youth scholarships available?
The Nampa/Caldwell Chambers of Commerce Agri-Business Committee Scholarships are available to Canyon County residents and also to continuing students who graduated from a Canyon County High School. Applicants must be a freshman, sophomore, junior, senior or graduate level student and enrolled full-time at a community college or university for the coming academic year. Major or minor in an agriculture-related field is required.