Experience Your Community From an Entirely New Perspective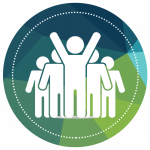 With the Leadership Nampa program, the Nampa Chamber has been training tomorrow's leaders for 23 years. This 9-month leadership development program in Nampa takes participants throughout the community to make them aware of the assets and needs in our area while improving their individual leadership styles.
No other program provides this kind of in-depth exposure to a variety of issues that will bring a fresh, broadened perspective of the challenges and opportunities facing our community. Interaction takes place with a variety of community leaders with introductions to many organizations which are the heartbeat of Nampa.
Each participant will develop a network of relationships throughout the community and from within the elite group of leaders in the cohort.
With a deep dive into personality assessment, competencies required to be a high performing leader, and timeless principals, participants will find a great knowledge of themselves.
This 9-month leadership development program in Nampa is effective, energizing, and affordable. It's an investment that pays huge dividends. Classes are held on the first Wednesdays from September through May. Tuition is $1,000 for Nampa Chamber members and $850 for nonprofits and includes meals, materials, and bus transportation when needed.
Thank You to our Sponsors
Class of 2023 Required Dates
March 30, 2022 - Class of 2023 Registration Opens
June 30, 2022 - Applications Due
July 15, 2022 - Acceptance/Notification
August 31, 2022 - Orientation
September 7, 2022 - First Class
May 17, 2023 - Graduation
Applications open March 30, 2022
Leadership Nampa is AMAZING! I encourage anyone who is new to the valley or has lived here your whole life to experience Leadership Nampa. It will honestly give you a new perspective of how incredible this community is and how much Nampa has to offer.  You will not be disappointed!

-Josh Hellwege, Saltzer Health, Class of 2018